They say there's always one summer that changes you...
Summer by the Sea is a beautiful, heart-warming summer read about sisters, first love and not always getting what wewant – but sometimes ending up with exactly what we need.
For Faith the one summer she can't forget is when she fell in love as a teenager – only for her sister, Casey, to steal her man.
Now, at the request of her beloved ninety year-old grandmother, Faith has agreed to a family holiday – at their childhood beach house, where it all began.
Faith hasn't seen her sister in years but is finally ready to forgive and forget, enjoy the sunshine and relive happy memories.
What she's not ready for is meeting Jake Buchanan – the owner of the beach house – or the long-forgotten feelings he ignites in her.
Can Faith overcome the hurt of the past, rekindle the close bond she had with Casey and make this summer THE ONE to remember?
Hi Jenny,welcome to Sincerely Book Angels blog.
Hi. Thank you for having me!
What was the inspiration behind this novel?
The Outer Banks itself. It is a real place in North Carolina—a thin stretch of barrier islands off the coast. I've been there a lot throughout my life—family vacations with my parents and siblings and now with my own children. It was a lot of fun to build my characters within that setting.
Did you always want to be a writer?
I've always been a storyteller, but it didn't occur to me to write until adulthood.
What other jobs have you had?
I am currently a district teacher of English to students who speak other languages. I teach students, ages five to ten. Prior to that, I was an elementary school teacher. I taught grades two, three, and four.
How did it feel when your first novel was published?
I didn't believe it! It seemed too perfect; I kept thinking there was a catch. No catch, though. It was amazing.
Have you ever had writer's block? If so how did you overcome it?
I've never had writer's block! *runs to knock on wood* (touch wood?)
What motivates you to keep writing?
It's intrinsic; It is my method of calming a crazy day, relaxing, and having quiet time.
Do your characters' moods ever affect your mood and vice versa?
Not really, but if my character requires a certain mood that isn't coming naturally for me, I listen to music to try and create that mood to better write the character.
What three pieces of advice would you give to an aspiring writer?
Who is your favourite author and why?
I have a million favorite authors. Here are a few: Jill Mansell, Harriet Evans, and Emily Giffin.
If your book was made into a film what song would you choose for the opening credits?
A great way to start the movie out would be to use Jana Kramer's "I Got the Boy."
Who would you choose to play your favourite character in the film of your book?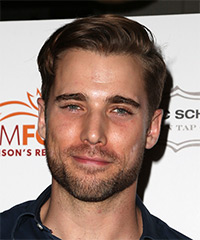 Source: http://hairstyles.thehairstyler.com/hairstyle_views/front_view_images
/10577/original/Dustin-Milligan.jpg
What is your next book about?
My next book is about having dreams and the big question: Should we take a risk to chase our dreams or not? It's about a nurse named Abbey Fuller who scores an interior decorating job. That job is at a million dollar mansion. And the mansion is owned by bachelor Nick Sinclair. In the story, not only does Abbey have to decide if taking the job is worth the risk, but she also learns that falling for Nick could be riskier. Especially when she has her young son and her ailing Gramps to think about…
It should be out this Christmas!
Thank you so much for joining us on our blog today and good luck with the next book.
Thank you for having me!
To read our review of Summer by the Sea please click here
Title: Summer by the Sea
Author: Jenny Hale
Publisher: Bookouture
Date: 12th June 2015
Purchase Link
About Jenny Hale
When she graduated college, one of Jenny's friends said "Look out for this one; she's going to be an author one day". Despite being an avid reader and a natural storyteller, it wasn't until that very moment that the idea of writing novels occurred to her.
Sometimes our friends can see the things that we can't. Whilst she didn't start straight away, that comment sowed a seed and several years, two children and hundreds of thousands of words later, Jenny finished her first novel. Coming Home for Christmas went on to be a Kindle hit on both sides of the Atlantic - reaching the top 20 in the UK and top 10 in the US.Summer by the Sea is Jenny's fourth novel.