"Do not miss me, because I will always be with you…I am the air, the moon, the stars. For we are all made of stars, my beloved... Wherever you look, I will be there."
Author
: Rowan Coleman
Title:
We are all made of Stars
Publishers:
Ebury Press (Fiction)
Publication Date:
Hardback 21st May, Paperback
Link:
Amazon
Stella is a nurse who works at Marie Francis hospice, she was happily married until her husband came back from Afghanistan with life changing injuries and now they are living pretty separate lives and are both unhappy. Stella throws herself into her job and is often asked by the patients to write personal letters on their behalf, many of which contain their dying wishes and things they always wanted to say to loved ones.
Hope is a young girl with cystic fibrosis who has been a patient at the hospice and we follow her story too, her friendship with Ben and how her life is impacted by the death of another young patient.
My Review
This is such a unique and fascinating concept about death and life and love. I've never read a book quite like it. It's a comforting thought that someone could write a letter to your loved ones before it's too late. The letters that Stella wrote on behalf of the patients were intertwined throughout the story, some of which were tender and caring, others just a chance to finally get something off their chest. Stella never revealed the often heart breaking contents to anyone else, but one letter makes her feel that she might have to get involved to avoid more regrets so she struggles with her conscience over whether to reveal the big secret of one of her patients. Stella has her own problems with her marriage since her husband was injured in Afghanistan.
Hope and Ben have been friends since they were younger and he has always been there for her throughout her illness but when he drunkenly kisses her everything changes and it looks like their friendship will never be the same, especially when she stares death in the face.
Hugh had lost his dad and still thinks about him alot. He tries to keep himself to himself and lives with his cat Jake who has a secret life of his own. The one thing that all the characters have in common is that they are faced with death in one way or another and all deal with it in their own way.
This book is very sad throughout and is on a similar level to 'The Fault in our Stars' there was one moment which made me have a whole body tingle right down to my toes and that involved Jake the cat which provided a lovely touch. Although very much a tearjerker, there was a sense of hope and a reminder that some people are so afraid of death that they often forget, or are too scared to live. Beautifully depicted characters so cleverly interwoven together.
Thanks to Rowan Coleman and Ebury Publishing UK for allowing me to review.
Sincerely
Book Angel
About the Author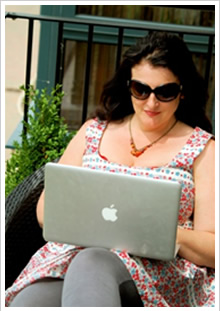 Rowan Coleman lives with her husband, and five children in a very full house in Hertfordshire. She juggles writing novels with raising her family which includes a very lively set of toddler twins whose main hobby is going in the opposite directions. When she gets the chance, Rowan enjoys sleeping, sitting and loves watching films; she is also attempting to learn how to bake.
Rowan would like to live every day as if she were starring in a musical, although her daughter no longer allows her to sing in public. Despite being dyslexic, Rowan loves writing, and The Memory Book, her eleventh novel, was chosen as a Richard and Judy bookclub selection in 2014. Others include The Accidental Mother, Lessons in Laughing Out Loud and the award-winning Dearest Rose, a novel which lead Rowan to become an active supporter of domestic abuse charity Refuge, donating 100% of royalties from the ebook publication of her novella, Woman Walks Into a Bar, to the charity.